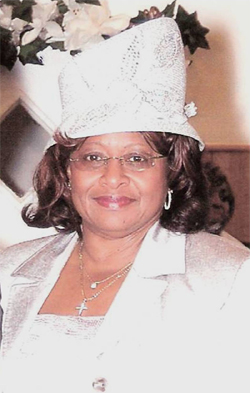 Lady Gloria A. Murray
is the wife of
Reverend Dr. Rollie Murray, Jr.
, who is the Senior Pastor of the
Bethel Missionary Baptist Church, Inc.
, located at 654 West Anderson Street, Orlando, Florida. They have shared at the Bethel Church together for the last twenty-eight years. She partners with her husband in the work of the ministry and is active in the Teaching, Program Development and Counseling Ministries of the church. Additionally, she serves with the Music Ministry, gives leadership to the Ministerial Staff Wives and is counselor for Y.W.A./Jr. Women Ministry. She is also active in the community formally serving as Secretary of the Orange County Branch of the NAACP for several years. She is a mother of four, grandmother of seven, and god-mother and god-grandmother to many.
A native of Jacksonville, Florida, Sister Murray was educated in the Public School System of Duval County. While living in Jacksonville she was employed as a Licensed Practical Nurse, Medical Claims Examiner, Claims Examiner Supervisor, and a Medical Policy Writer, Additionally, she owned and operated the first African-American Owned Health Club in Jacksonville for four years.
After moving to Orlando she continued her education by obtaining her Bachelors Degree in Business Administration concentration in Marketing and Management, and a Masters Degree in Public Administration. Currently she is employed at Orange County Board of County Commissioners, where she has worked for the last twenty four years. She is a Human Resource Analyst for the Health and Family Services Department responsible for supervising Recruitment and Human Resource Activities for the Head Start and other Divisions.
Sister Murray's biblical and practical approach to ministry has allowed her to serve in various leadership positions in local, state, and national assemblies. She has served with the Baptist Ministers Wives and Widows of Orlando and Vicinity. In the Progressive M&E Baptist State Convention of Florida she served as an Officer from its inception, her last position being President of the Minister's Wives and Widows Auxiliary. She served in that position for fifteen years. She is currently the President of the National Baptist Convention of America, Inc. International, Ministers Wives and Widows, and past Instructor for the Ministers Wives and Widows class for the National Baptist Convention of America Congress of Christian Workers.
Sister Murray, in her spare time, enjoys reading, cooking, working in her yard, and relaxing with her family. She is a picture of the "Elect Lady" that John spoke of in II John 1-13. She is a Lady, an Elect Lady, a Hospitable Lady, an Exemplary Lady, and above all a Privileged Lady. Her ministry is a blessing to those with receptive hearts.