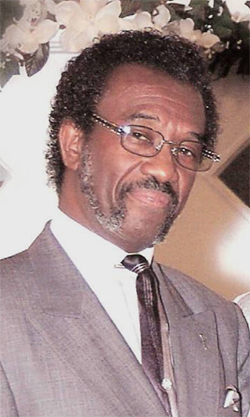 Reverend Dr. Rollie Murray, Jr.
, is the Senior Pastor, Preacher, Teacher, of the
Bethel Missionary Baptist Church, Inc.
, located at 654 West Anderson Street, in Orlando, Florida. Prior to moving to Orlando, Pastor Murray served the Little Rock Missionary Baptist Church, in Jacksonville, Florida, Mt. Olive Baptist Church, Marianna, Florida, Blessed Hope Missionary Baptist Church, in Quincy, Florida, and St. Michael Baptist Church, in Jacob City, Florida.
A native of Chattahoochee, Florida, Pastor Murray graduated from Chattahoochee High School. He received his Bachelor of Arts degree in Religion, and Masters Degree in Education from Florida A&M University. Pastor Murray graduated Magna Cum Laude from the Florida A&M University. He has done some post-graduate studies at the Bethany Divinity School, in Dothan, Alabama.
Pastor Murray, commenced his preaching ministry at the age of eleven, and was called to the Pastoral Ministry at the age of seventeen. His unique preaching and pastoral style has allowed him to Shepherd the Bethel Missionary Baptist Church, Inc., for the last twenty-eight years. His style of leadership has produced tremendous and explosive growth at Bethel. Because of this phenomenal spiritual and physical growth, Bethel is currently planning an expansion of its Sanctuary and Educational Facilities, is redeveloping their website, celebrated a Centennial Year, and is currently a leading Church in the historic African-American, Parramore Community. Bethel continues to experience a plethora of capital improvements and ministry enhancements under his spiritual leadership. His Pastoral and Father-like mentorship has produced several sons in both the Pastoral and Ministerial fields.
Pastor Murray's scriptural, and biblical approach to ministry has allowed him to previously serve as Assistant Director for the Congress of Christian Workers, and a Devotional Leader for the Evangelical Board of the National Baptist Convention of America, Inc. Additionally he served as Dean of Congress of Christian Education; and also as Secretary for the President of the Progressive M&E State Convention; as well as the Dean of Workshops for Congress Number Two. Presently he serves as a member of the National Baptist Convention of America, International, Inc., Evangelical Board; Chairman of the Orthodoxy Committee, for the Progressive M&E State Convention; Director of Youth for the First South Florida District Association; and President of Congress Number Two, an auxiliary to the First South Florida District Association.
Pastor Murray does not do this work alone. With the help of God and the angel God sent from Heaven, the Queen of his life, Lady Gloria A. Murray, who is his best friend; and the most influential person in his life; they work together diligently to further the ministries at the Bethel Church, and beyond. They are the proud parents of Richard, Steven, Rollie III, and Renita. The proud grandparents of Josh, Nikki, Prentice, Arianna, Zaria, Allison, Alana, and Alexander.
Pastor Murray is widely acclaimed as one of the most gifted and humble pulpiteers and homilecticians of the twenty first century. He is known by many as a "preacher par excellence," and is a highly sought after preacher, teacher, evangelist, and facilitator. His Pastoral, Preaching and Teaching Ministry is a blessing to those with receptive hearts.